Earlier this week Re/Code published an article with the provocative title "The Year Facebook Blew Past Google." It cites a chart from BuzzFeed suggesting that, beginning in January of 2013, Facebook surpassed Google as the most important referral source to publishers. According to the chart below, in December 2013, Facebook sent four times as much traffic to publishers as Google did: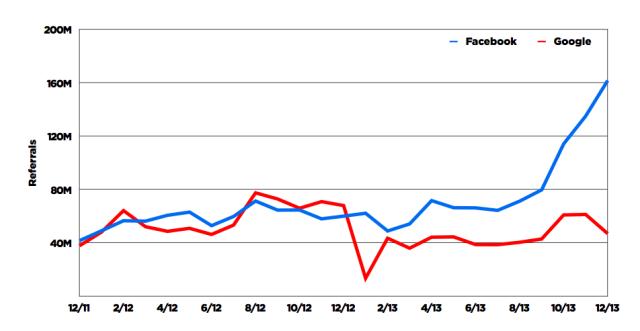 (Chart via Re/code.net)
Yesterday, The Atlantic jumped on board the BuzzFeed train, claiming that Facebook is "the most important entity in web journalism" and went on to say "we rarely see search engine optimized (SEO) stories anymore."
If Facebook is truly the web's largest referrer and search traffic is no longer growing, then that's a sea change with massive implications for the entire digital marketing industry, resulting in serious shifts in strategy, resources and budget allocations. Yet BuzzFeed seems to be the only primary source reporting this upheaval.Continue Reading
---
Marshall Simmonds speaking at SEER Interactive's SearchChurch series talking about the perils of image search, the success of mobile search and how to be aware of recent changes to safe search. Go Eagles.
---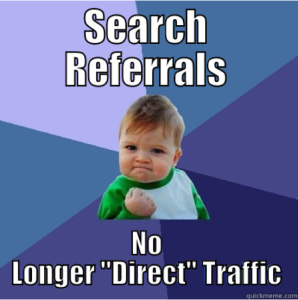 When Apple's new iOS 7 operating system was released on September 18, 2013 its adoption was unprecedented.  Apple claimed it was "the fastest upgrade in software history" with 200 million devices running iOS 7 only 3 days after launch. The Chitika ad network conducted primary research and found that 52% of all iOS devices were running version 7 one week after launch.
Whether you're an Apple lover or hater, if you rely on accurate metrics to help make critical business decisions, the iOS 7 adoption is worth a fist pump. iOS 7, unlike its predecessor, does a much better job passing on the correct referral information to analytics programs from search, allowing you to accurately measure the contribution of search and direct to your traffic profile.
---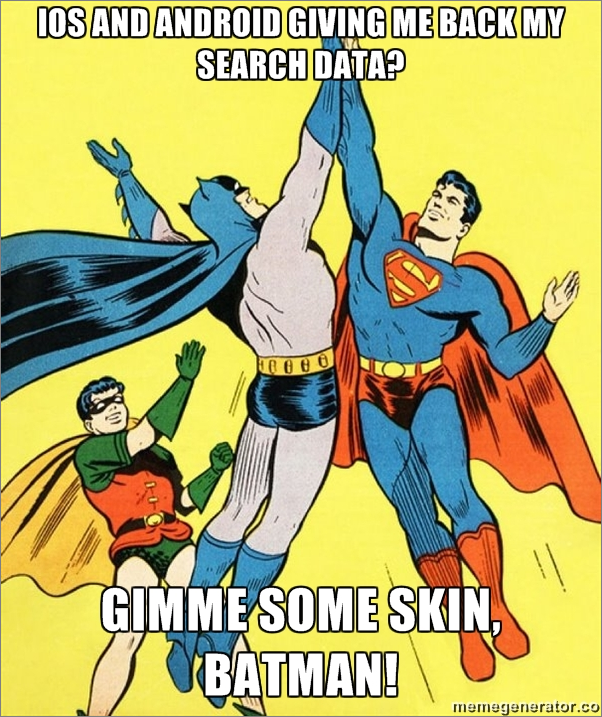 Starting on Tuesday 7/30, our clients have experienced double digit growth in organic traffic. This sudden shift has happened in sites across different industries and verticals. Diving into the reasons for the organic lift, we noticed that the Dark Google problem plaguing mobile, in which Android 4+ and iOS 6+ were misattributing traffic from search into the direct bucket, was no longer occurring.
If this holds, it means that search marketers and online businesses will regain what was once lost: the ability to accurately measure the percentage of traffic coming to their site from search.
---
The Summary
Google's January 23 image search update brought high resolution pictures directly within search results, leaving users with little incentive to clickthrough to the sites hosting and licensing the pictures. We analyzed the image search traffic of 87 domains and found a 63% decrease in image search referrals after Google's new image search UI was released. Publishers that had previously benefitted the most from their image optimization efforts suffered the greatest losses after the image search update, experiencing declines nearing 80%.
In the eleven weeks after Google's new image search was released, there has been no recovery – which means for image search, the significantly reduced traffic levels we're seeing is the new normal. In the aftermath of the new image search experience, image SEO has been severely compromised, and we have no choice but to recommend deprioritizing image SEO when weighed against other search traffic initiatives.
---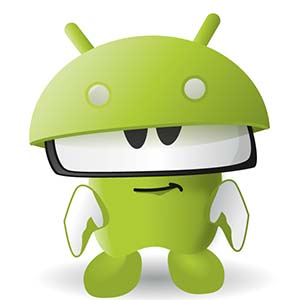 In a prior post, we wrote about how Apple's release of iOS 6 in September led to a decrease in reported search traffic. Within the Safari search bar, the search referrer string is no longer being passed, so a significant portion of iOS 6 search referrals are being bucketed as direct within analytics packages, including Google Analytics and Omniture. At the time of our analysis, our clients collectively saw a 9% decrease in search traffic, and we offered a methodology to properly attribute iOS 6 organic search referrals.
But it turns out that this was an incomplete solution, because Android 4+ (ie Ice Cream Sandwich and Jellybean) is also stripping out the search referral string. Now, Android 4.0 was first released in November 2011, so technically Android has been obscuring search data long before iOS started to. However, Android's fragmented ecosystem leads to slow adoption rates for each new release, and iOS is a significantly larger driver of search traffic overall, so the impact of the Android 4 search traffic hadn't really been felt – until recently.
---


When iOS 6 was released in September, there was an unexpected yet all-too-familiar impact on those of us who rely on search data for a living: iPad and iPhone search traffic was suddenly obscured. Google was caught off-guard by this change, which specifically impacts searches done within the Safari search box.  They told Search Engine Land that they were looking into ways around this issue:
The web browser on iOS 6 switched to use SSL by default and our web servers don't yet take that fact into account. Searching still works fine, but in some situations the HTTP referer header isn't passed on to the destination page. We're investigating different options to address this issue.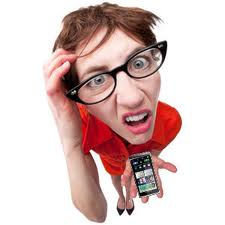 Google's not provided issue has been well documented, but that only concealed specific keywords and not attribution of traffic from search. This iOS 6 issue, though smaller in scale, is more insidious, because a substantial amount of search traffic from iOS is now being reported as direct traffic (86% according to this article). If you are an SEO whose performance is directly correlated with search traffic performance (and frankly, who isn't?), then you need to understand and account for this issue. The true and full measure of the value you bring to those who pay you for your search expertise depends on it.
UPDATE: See our follow-up post that describes how your Android 4 search traffic is also being lost – and what to do about it.
---
Back around 2007 or so, topics pages were a slam dunk. They were a tried-and-true strategy for capturing category-level search traffic for our publishing clients. A properly executed topic page strategy was primed to capture traffic for high volume terms such as celebrity names ("Angelina Jolie"), general news topics ("Social Security") or industry-specific category terms ("BMW"). We worked closely to launch and optimize topic pages for existing clients, and encouraged any new clients to invest their resources in topic pages as a major part of their SEO strategy. And our clients new and old consistently benefited from doing so.
But if topic pages were the equivalent of an uncontested stuff back then, like this:
these days they're more like a turnaround 18 foot jumper taken with a hand in your face and the clock winding down. You can still make it – but you've got to be both lucky and good, like this guy:
In this post, we're going to share some aggregate and anonymized topic page data trends over the past five years, discuss best practices for building successful topics pages in today's search environment and describe the specific challenges that topic pages face these days. This way, if you're developing a topic page project, you'll have your eyes wide open to the challenges you'll face, and you'll be able to level-set expectations to your colleagues and clients if you start down the topic page road.
---