Earlier this week Re/Code published an article with the provocative title "The Year Facebook Blew Past Google." It cites a chart from BuzzFeed suggesting that, beginning in January of 2013, Facebook surpassed Google as the most important referral source to publishers. According to the chart below, in December 2013, Facebook sent four times as much traffic to publishers as Google did: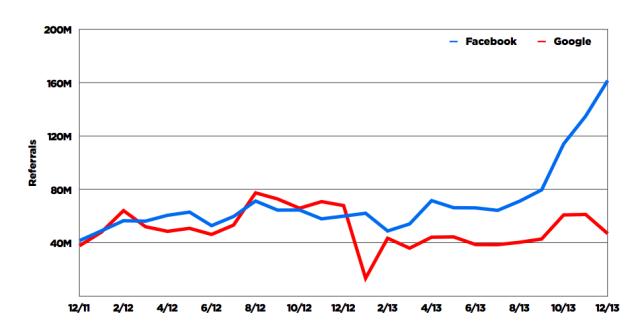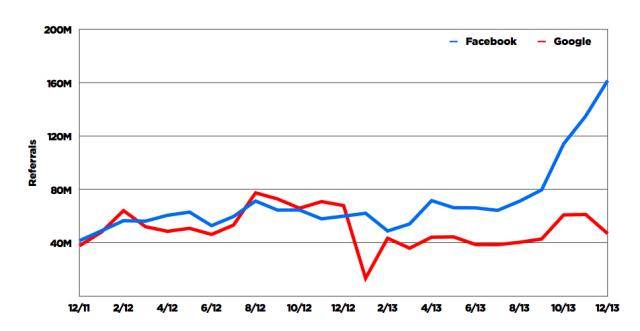 (Chart via Re/code.net)
Yesterday, The Atlantic jumped on board the BuzzFeed train, claiming that Facebook is "the most important entity in web journalism" and went on to say "we rarely see search engine optimized (SEO) stories anymore."
If Facebook is truly the web's largest referrer and search traffic is no longer growing, then that's a sea change with massive implications for the entire digital marketing industry, resulting in serious shifts in strategy, resources and budget allocations. Yet BuzzFeed seems to be the only primary source reporting this upheaval.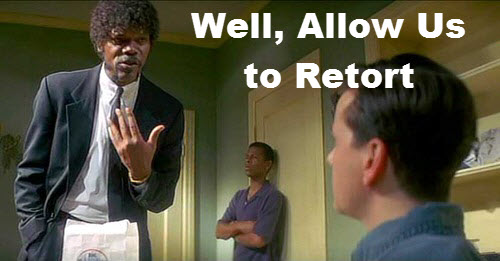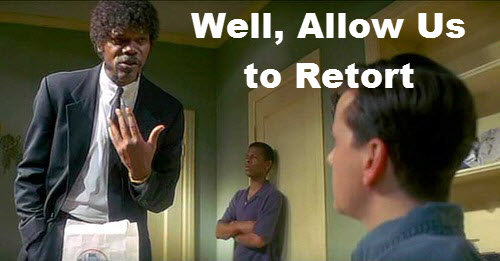 As the search consultants of record for some of the biggest publishers in the world, we decided to dive into the metrics ourselves. The data we examined suggests something entirely different than the data BuzzFeed is distributing, and which publications like Re-Code and The Atlantic are uncritically amplifying.
Define Media Group is an audience development consultancy and one of our primary objectives is SEO. We are the agency of record for many of the Blue-Chip publishing networks world-wide with access to tremendous amounts of referrer data. We utilize this information to identify valuable trends, problems and opportunities.
Methodology:
According to BuzzFeed their data gathering is done via a tracking code across their network of sites of which "represent an audience of more than 300 million people globally." They use this tracking code to come to the conclusions above.
To contrast with BuzzFeed, the methodology for our analysis covered the following datasets:
Accumulated data pulled directly from Google Analytics and Omniture
87 sites across several major publishing networks, including many of the best-known brands on the web
Analyzed 48 billion pageviews and 10 billion visits in 2013
What's also important to understand is that by analyzing the Omniture and Google Analytics data directly, we're looking at the same data that publishers use to make key business decisions. To our knowledge, none of our clients use BuzzFeed viral tracking data as a mission critical internal reporting tool.
The results?  Despite BuzzFeed's claims to the contrary and the follow up mis-reporting, the data we analyzed irrefutably shows the following:
Organic search traffic is the #1 referral data source
Organic search traffic far outperforms social
Organic search traffic is aggressively growing year over year
Social grew in Q4 (on that much we can agree with BuzzFeed), however organic search traffic did as well
Among our network of publishers, search sent nearly 2.5 times more traffic than social, accounting for 41% of all referrals, versus social's 16%: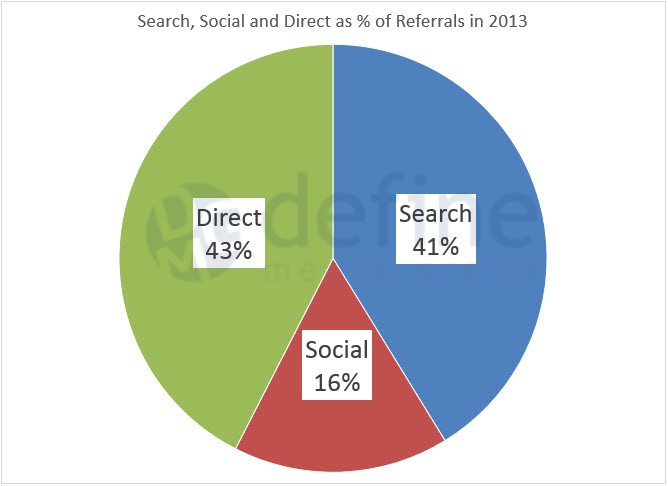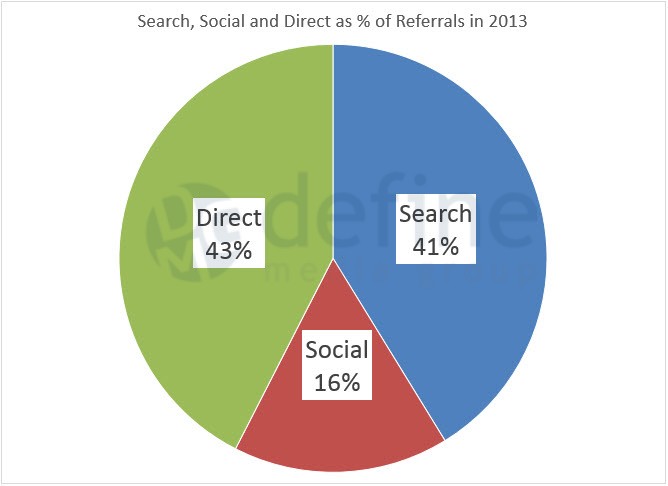 In a May 2013 article BuzzFeed's also stated: "Over the past year, search traffic referrals have remained flat, growing only 3% in 2013 from 63M referrals in January to 65M referrals at year-end."
Our numbers show something very different. In our analysis of 2012 – 2013 covering over 97 billion PVs, search trends exceed 2012, and at their peak in December 2013 increased 53% YOY: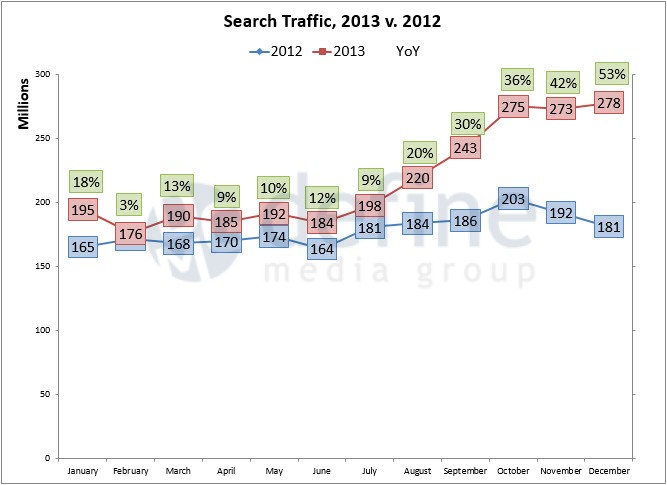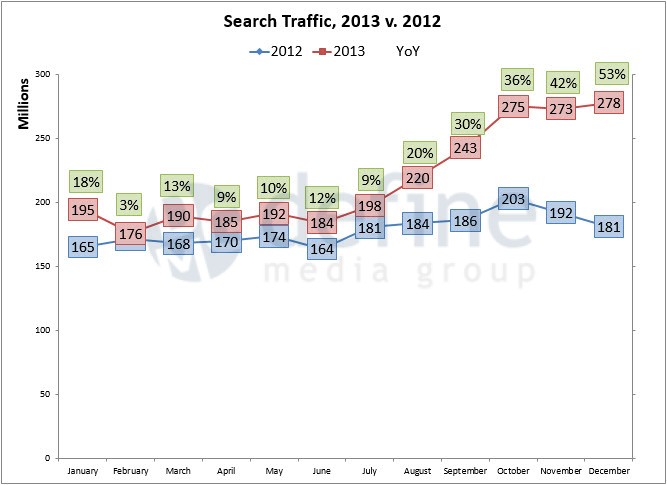 The numbers above do not reflect the Dark Google issues which plagued publishers for most of last year, which we've covered extensively. In essence, taking the fact that most mobile search traffic was incorrectly attributed as "direct" for the majority of 2013, the search numbers above should actually be even higher than we're reporting here.
Digging in deeper the charts below show search traffic relative to social, in the aggregate and trended in 2013: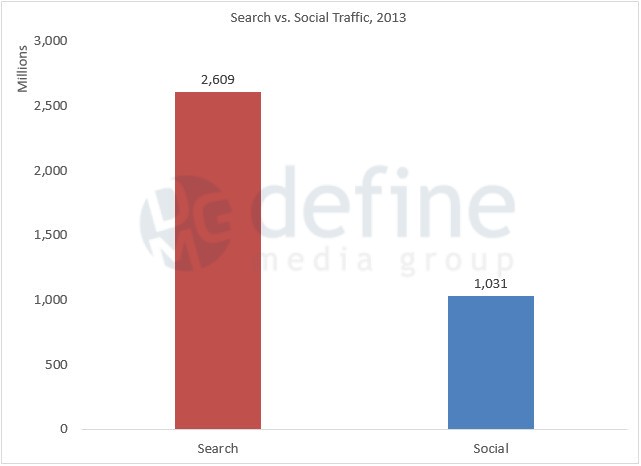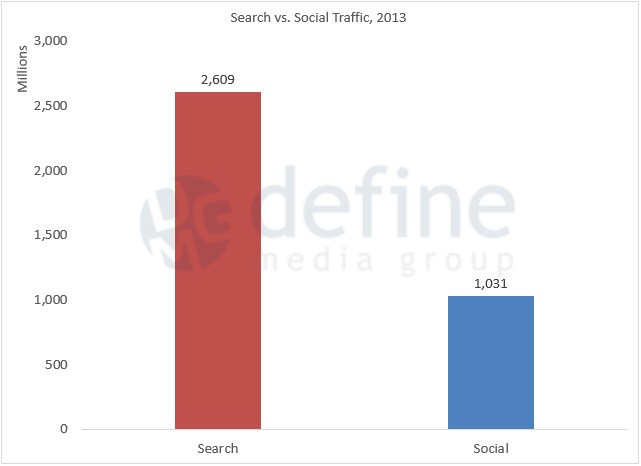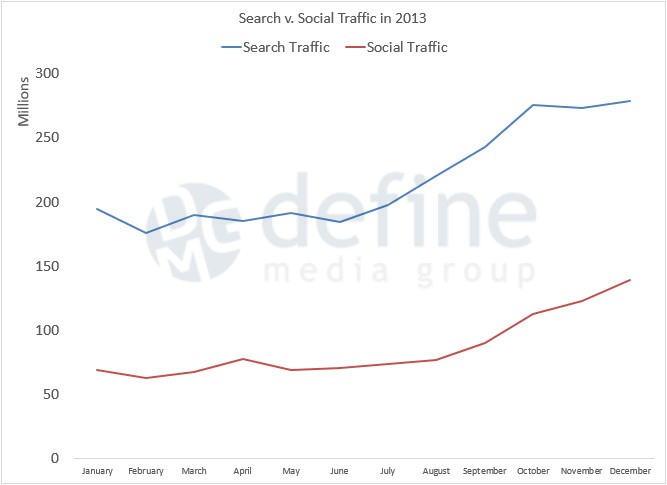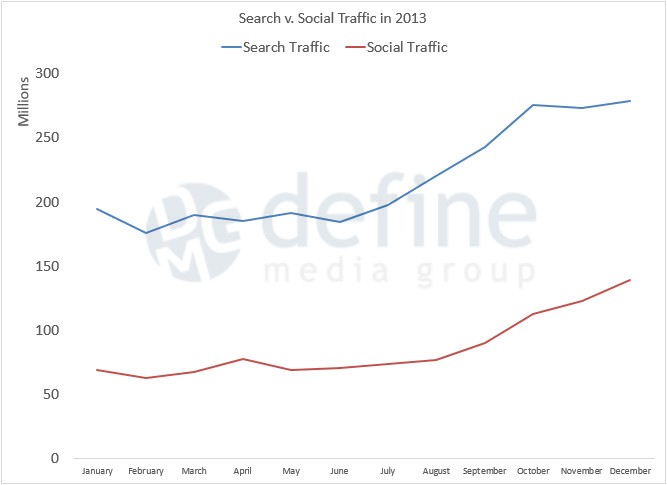 It's no surprise BuzzFeed's network and methodology is obviously biased towards more socially oriented publishers. However it is irresponsible to make emphatic claims based on a biased methodology, and it's even more irresponsible to report on this information without truly understanding the data and the industry which has seen massive flux in the past 24 months.
Not only is organic search alive and well, but it's more important than any other external traffic driving source.
*More important than any other external traffic driving source!*
Are publishers investing less time in SEO? As the data shows, no. Are publishers investing more time in social? Of course – they'd be foolish not to as social traffic is growing fast. We're not saying social isn't growing. Clearly it is – and our data emphasizes this point: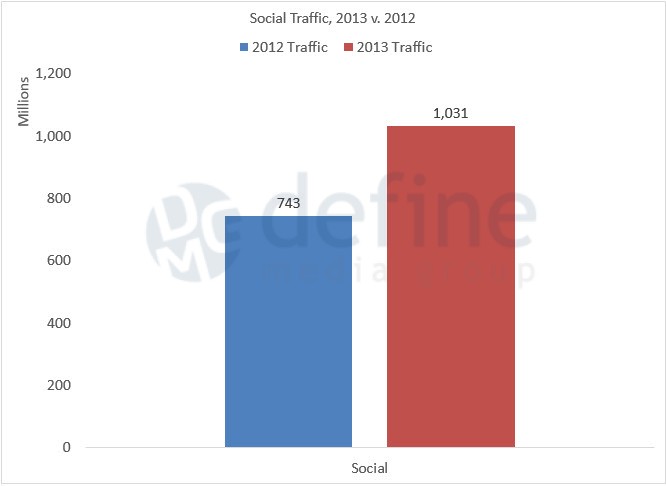 We would be remiss as digital marketers to not recommend growth opportunities to all our clients and have done just that. Thankfully this isn't a zero sum game and smart brands understand that mindful allocation of resources, not the flavor of the month, is integral to success.
BuzzFeed is, at the very least, guilty of incorrectly interpreting their data and at most, producing self-serving marketing-driven spin which blurs the line between sales and accurate reporting.
Despite repeatedly stating they don't need SEO, their organic search ranking (and one can assume traffic) continues to grow steadily.


(Data from SEMRush)
 The same is true with TheAtlantic.com despite their reporting that SEO "just doesn't make commercial sense anymore."


(Data from SEMRush)
This kind of consistent, rapid success would be impossible without an ongoing, attentive and ambitious SEO strategy. (Full-disclosure: The Atlantic approached Define for consulting services in 2012 however we didn't end up working together.) While they may not care about SEO in the sense that many people think of SEO as some mystical voodoo of keyword stuffing and link buying, don't think for a second BuzzFeed's very smart team did not address SEO best practices when building their site and producing content. While it may not a primary driver for their business, they have investors and business goals that are not going to turn away the abundance of organic search traffic they have earned via the engines.
The final question, "Are publishers investing less money into SEO?" Thankfully not, according to our P&L or Moz's 2014 "Survey Data on the Growth/Shrinkage of Web Marketing Channels in 2014"
While social can curate in the short term, organic search curates and organizes web content for the long term.  As such, the search engines would be negligent not to better understand the social graph and social signals.  As we often remind our clients, in the big picture, organic search is a pretty accurate scoreboard reflecting all the things you do online and offline.
As Danny Sullivan said this week in his article about Search CEOs; "Search is a money-maker. It's not as cool as social, where so much of the attention is these days, but it's the dependable product that, done right, can lead to huge profits." 2014 is already showing stronger search traffic growth than last year and the savviest brands fully understand the essential composition of search and social traffic – and are investing their resources accordingly.