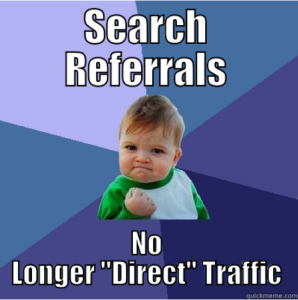 When Apple's new iOS 7 operating system was released on September 18, 2013 its adoption was unprecedented.  Apple claimed it was "the fastest upgrade in software history" with 200 million devices running iOS 7 only 3 days after launch. The Chitika ad network conducted primary research and found that 52% of all iOS devices were running version 7 one week after launch.
Whether you're an Apple lover or hater, if you rely on accurate metrics to help make critical business decisions, the iOS 7 adoption is worth a fist pump. iOS 7, unlike its predecessor, does a much better job passing on the correct referral information to analytics programs from search, allowing you to accurately measure the contribution of search and direct to your traffic profile.
Our internal research shows that as of week ending 10/19, iOS 7 has a 63% adoption rate: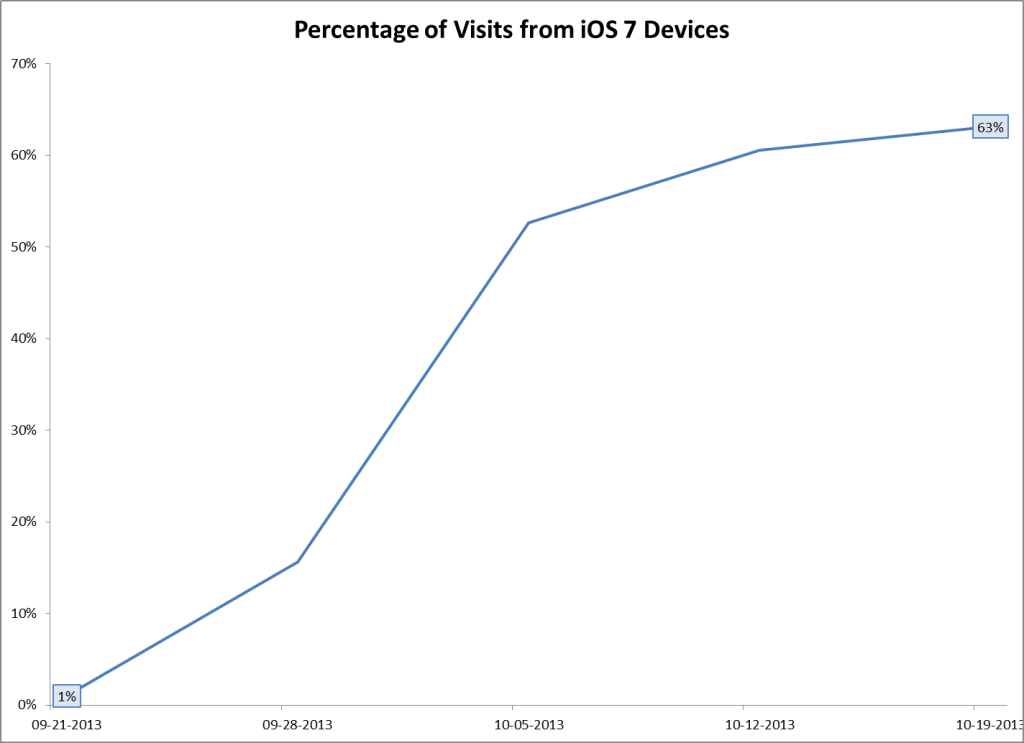 As a basis of comparison, Android's latest operating system Jelly Bean was released on July 9, and 12 weeks after launch had a 45% adoption rate among all Android users.
With our hopes raised when iOS 6.1.3 fixed the referral issue for iOS 6, we'd been watching the release of iOS 7 closely to see if the update would put to bed once and for all the search and direct traffic issue. Unfortunately, out of the gate this was not the case.
This is because when iOS 7 first launched, the referral data was inconsistently being passed along, and surprisingly differed between the iPhone and the iPad. For example, on an updated iPhone, searches in Safari correctly passed on the referral string as Organic. However when we checked Safari on the iPad, we found that initially in iOS 7 "Direct" was still the referrer for organic search.
We checked referrer string data for some of the most common search use cases on iOS 7 for the iPad and iPhone and found that the iPhone referral string profile was much better:
Subsequent updates improved how the iPad passed along information. As of today, the referrer information for both is as follows:
Chrome is the last remaining holdout still passing along incorrect referral data (it somehow lost that ability from the initial iOS 7 rollout on the iPad to the present). However, Chrome's browser market share on iOS in only 3%, so it's not a materially significant holdout. With the majority of ways to search via Google on iOS passing along the correct data, and iOS 7 adoption rates so high, search traffic has rebounded to levels we hadn't seen since this issue first appeared. Just in time for Halloween, the search as % of traffic chart below resembles nothing so much as a crooked Jack-o-Lantern smile: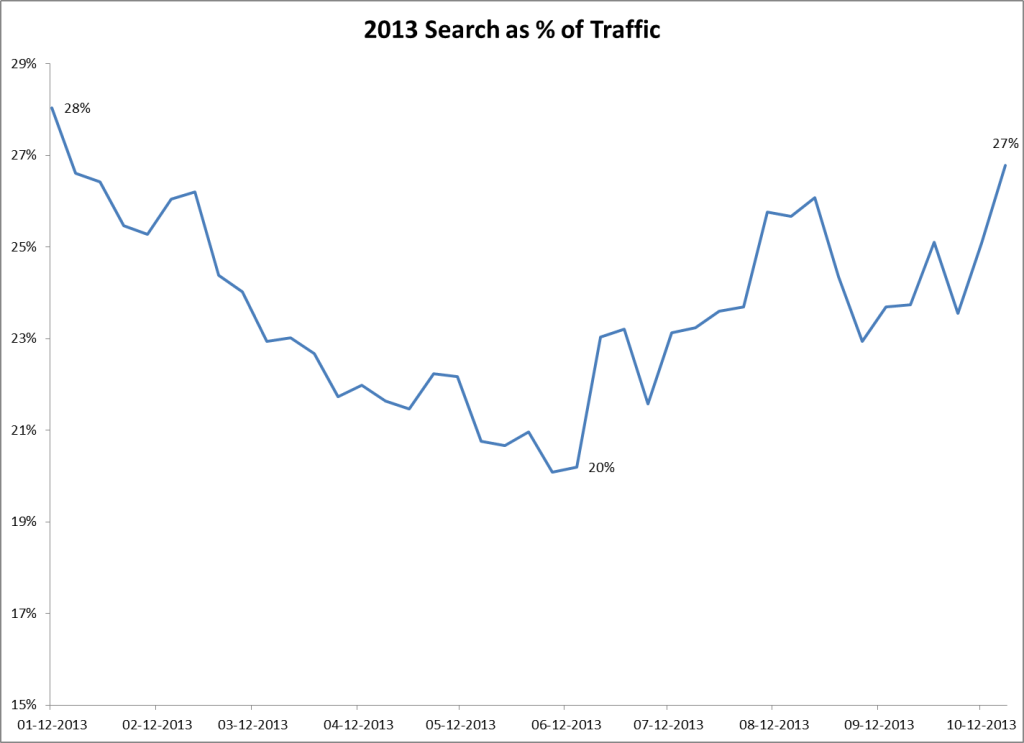 Early this year, search clocked in as 28% of all traffic, then headed to a nadir of 20% around June. This correlated with the general increase in mobile usage in 2013, which has jumped from 17% to 28% of all site traffic. But with both the Android and iOS referral fixes (mostly) in place, we're finally seeing search being reported at or around the 30% level for the set of sites we reviewed for this analysis. This is just below the historical norm.
At the same time, and as we'd expect, Direct Traffic has also decreased, from 17% as recently as early August to 13% for the week ending 10/19: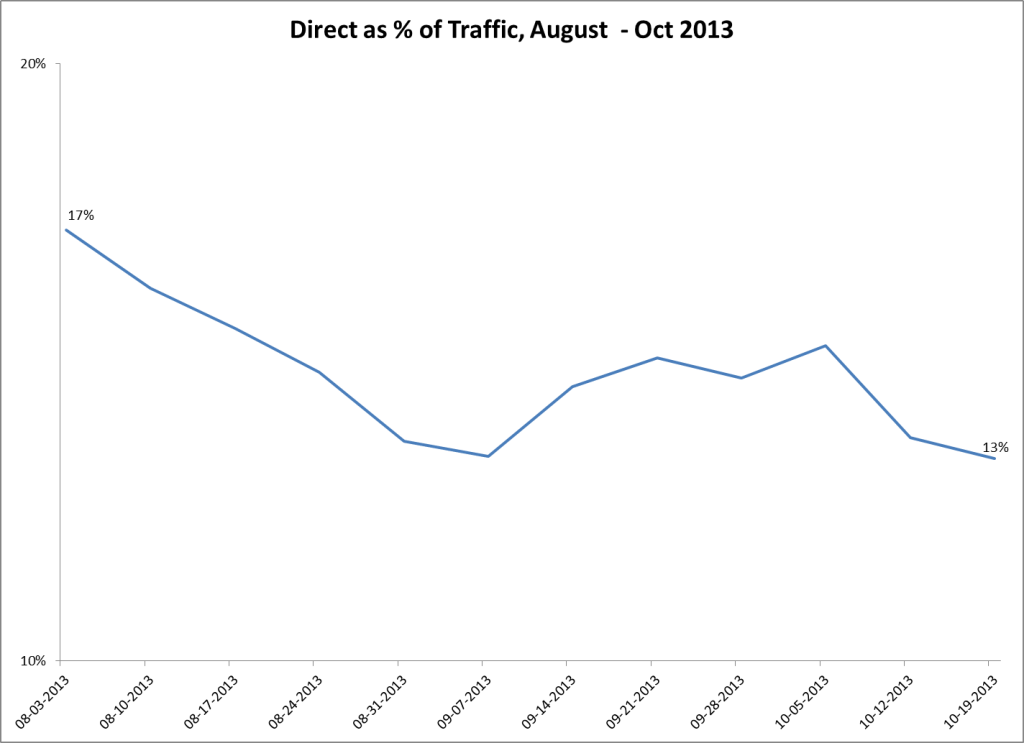 As an SEO, analyst or a business owner, you can now look at direct and search metrics and make critical business decisions, such as budget allocation, goal performance, employee assessments and campaign evaluations with some degree of confidence. There is some minor underreporting still occurring, but the iOS 7 release (as well as the recent Android Jelly Bean update) has effectively negated the need to adjust search metrics as previously suggested. And with iOS 7 and Android Jelly Bean + adoption continuing to increase, and (fingers crossed) the referrals staying in place with subsequent updates, we should continue to see accuracy in the reports we make our decisions on.
UPDATE:
The inimitable Annie Cushing reached out to us and shared how to create Advanced Segments in Google Analytics to quantify the impact of the iOS 6 loss, and the subsequent iOS 7 recovery.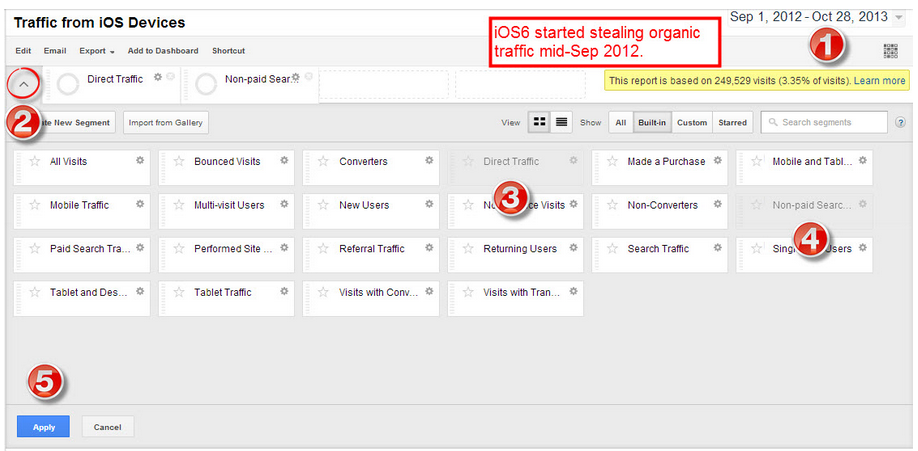 After applying the segments, your reports should show a graph similar to the below, with Non-Paid and Direct crossing paths and heading in opposite directions starting in October 2013:

Now all we need is our keywords back, and we'll be all set …